Discover more from A Disaster in Many Parts
The chaotic rambling of an overactive imagination
The Millennium Falcon: Day 2
Go Big or Go Home
One of the things I love most about these big sets is watching it all come together. You have these iconic items from movies and TV that are so immediately recognizable, but for a good chunk of the early build, it always feels like you're just sort of haphazzardly throwing bricks together.
I remember the first time I built the Helicarrier, there was this moment where I looked at the in-progress model, and thought "Ok, yeah, this set is big," and then I turned the page, and started an assembly that added like 6 more inches to it.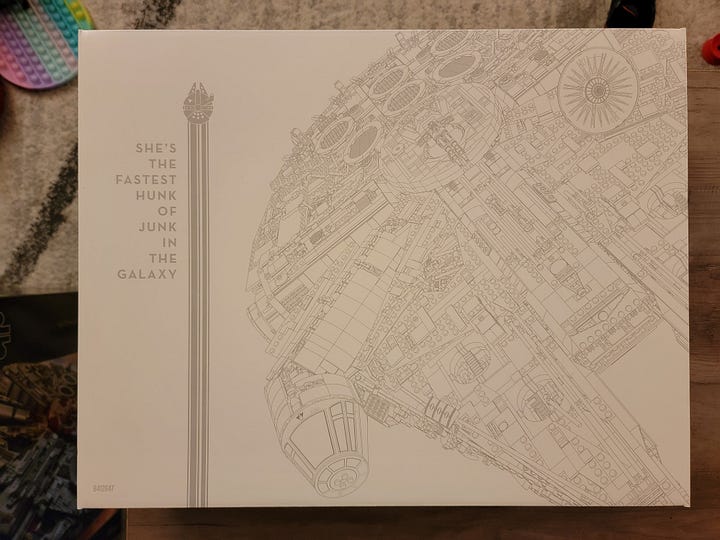 Rhis set, though, is next level. Inside the box, there were four smaller boxes each containing a subset of the numbered bags. The individual bags were in no particular order, so naturally, the first order of business was to sort them.
In total, there were 17 sets of numbered bags, and a few unmarked bags with larger plates & bricks, and some of the more obscure pieces (like the cockpit).
The plan is to build one set of bags each night. Well, it was the plan. I'd wait for the kids to go to bed, pull the box up from the basement, and then build one set before going to bed myself.
There are a few problems with this plan.
First of all, there are so many pieces. I mean, I knew that. I saw the number on the box, and mentally, I know it's like twice the size of my Helicarrier set, but seeing it spread across the table is kind of eye opening.
Second challenge: It's big. Again, I knew this, but it hits totally differentlu when you see it taking shape.
The instruction book alone is So large that there wasn't enough room for all the pieces once I had it opened up. Also, less than a third ofcthe way through the section, the set was already too big to put on the table unless I put it on the instruction book.
For the rest of the night, I had the core structure on the couch behind me, and there was a lot of moving the instructions, and lifting things up so I could turn the page.
You'll also notice that the build itself isn't strictly symmetrical. It's close enough that your Lego brain starts making assumptions, and then they throw you a curveball. I had to flip back more than a few times because I looked at a step and said "wait, I didn't do that on the other side."
Fun fact #3: The instructions include a visual guide for properly moving the set, and since I'm pretty sure the final product is going to be even larger than the frame I already built, I'm starting to think this could be like a "build in place" kind of set.
I'm clearly goingvto reach a point where transporting it to and from the basement every night is going to either be impossible or entirely impractical.
I should have started timing myself. Not because I think I'm amazingly fast at this—I'm not. I'm actually kind of slow with Lego, if I'm being honest. I just think it would be fun to know. Either way, day 3 is probably going to go something like "So, I built a table for this."
---
A Disaster in Many Parts is a reader-supported publication. To receive new posts and support my work, consider becoming a free or paid subscriber.