Discover more from A Disaster in Many Parts
The chaotic rambling of an overactive imagination
The Millennium Falcon: Day 6
The Big One
Today is the day I was finally able to grasp the full scale of this set, and let me tell you, I was not prepared. It's easy to look at the measurements and think "yeah, cool. I know how big 33 inches is. It's like three Subway sandwiches." But you don't actually realize that means three sandwiches lined up end-to-end (give or take a few inches), and it overhangs your desk by like 6-8 of those inches.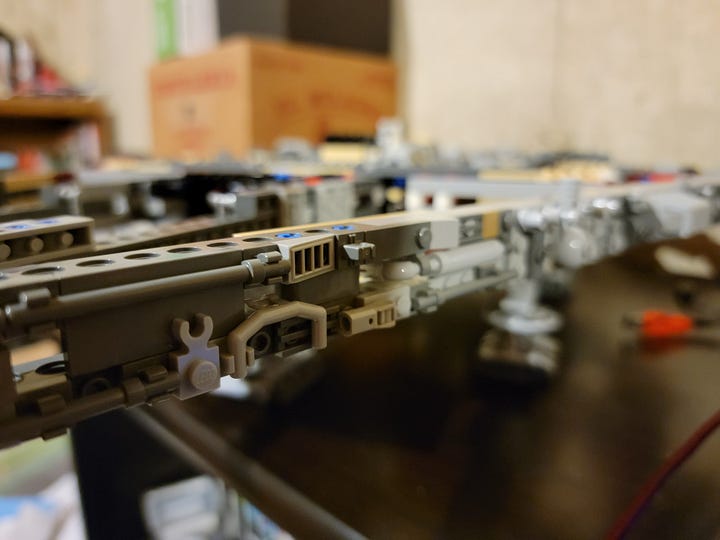 It looks mostly Falcon shaped now, and there's some really cool detailing on the side of the nose. The thing about sets like this is that the piece count is mostly taken up by these teeny little odds and ends. It's not like you get thousands of traditional bricks, and you just stack them together.
In order to get the shape of the Falcon, there are a lot of Technic bricks and hinges, and every one of the little pins holding them together counts as a piece.
With this section complete, I'm just about 1/3 of the way through the build, and now that the core shape is finished, odds are that subsequent sections will take a lot longer to finish because we're going to start seeing a lot more detail.
As usual, some of the colors are a little difficult to differentiate. My vision isn't great (who knew?!), and in certain lighting, it can be hard to tell the difference between the grey, dark grey and shiny grey pieces, which slows me down pretty significantly.
Overall, though, in some ways, the instructions for these large sets are just as impressive as the sets themselves. It's one thing to be able to design a set like this, but then to be able to break it down into each individual step, and assemble a visual guide to help some rando off the street recreate your masterpiece—that's next level.
There are a million different ways you could construct this set, but the starting point they chose, and the order they have you do it is so meticulously curated that everything just sort of works. Sorry, is my fanboy showing? I've posted about one single Lego set 6 times in a row now. You really shouldn't be surprised anymore.
---
Oh, and just in case you still aren't sure of size, here's a Diet Coke can for scale:
---
A Disaster in Many Parts is a reader-supported publication. To receive new posts and support my work, consider becoming a free or paid subscriber.