Discover more from A Disaster in Many Parts
The chaotic rambling of an overactive imagination
The Millennium Falcon: Day 9
The End
I've done it! I don't know if you've done the math here, but technically it's been more than 9 days. Whatever. Look how cool this thing is!
Once I started putting the top on, the pace picked up quite a bit. I was expecting all the small details to take a long time—mainly because I often have trouble seeing those pieces in the instructions. In the end, though, I think my excitement won the day and pushed me forward at a faster clip.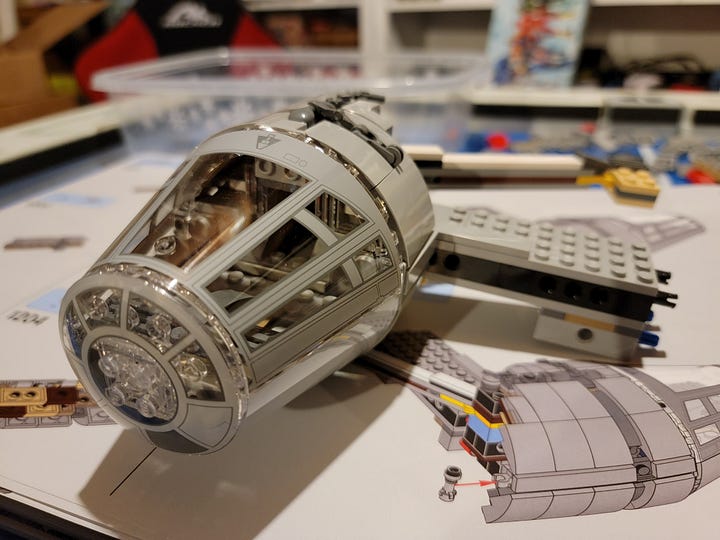 Obviously, as the last bit of the build, the cockpit was part of the equation. This was kind of a weird one, though. The way it juts out from the side of the ship required two distinct pieces, and it wasn't until they were both on the model that I realized exactly how they fit together.
The actual cockpit was an L-shaped structure with a sort of boom arm of the back, and then there was the rest of the tube structure.
These two pieces don't ecactly snap together, though. The cockpit and boom arm connect to the main structure, and then there's a notch on the under side of the tube that sits on top of the arm.
The final product left two little open patches that needed to be filled in, and both parts just sort of slide into place around the cockpit.
That left one last hole to fill, which was reserved for the gun battery on the top of the ship. It was pretty similar to the one on the bottom—except that it's plainly visible on the finished product.
Once again, though, this doesn't lock into place on the model. It's held together by gravity and a convenient little slot created by the matching cannon structure on the bottom of the ship.
Truth be told, I actually really love how it all fits together. Building these large sets a second time is always harder. A lot harder. They don't usually come apart easily, and once you do get everything apart, there's just one massive pile of pieces.
A set like this is a lot more challenging when you don't have carefully curated segments to work off of. I think the Batmobile I have took twice as long to build the second time around, and that's a relatively small model in terms of piece count (compared to the Helicarrier and this monster at least).
Given the way each panel is broken up on this model, and the fact that each one was contained within a single set of bags, I should be able to get this set a lot closer to the original packaging when it comes time to take it apart and rebuild it.
Hopefully I remember that in the moment.
---
A Disaster in Many Parts is a reader-supported publication. To receive new posts and support my work, consider becoming a free or paid subscriber.